11 August
Today Fr. Miguel, Ignacio, and Eduardo set out from San Miguel, El Salvador and, after about 15 miles of walking, arrived at the much smaller town of Jocoro, El Salvador.
I'd love to try some of Angie's Tortas and Tacos, wouldn't you?
They were welcomed by this friendly baker.
Finally, the team arrived at Parroquia San Felipe Jocoro (Parish of St. Philip).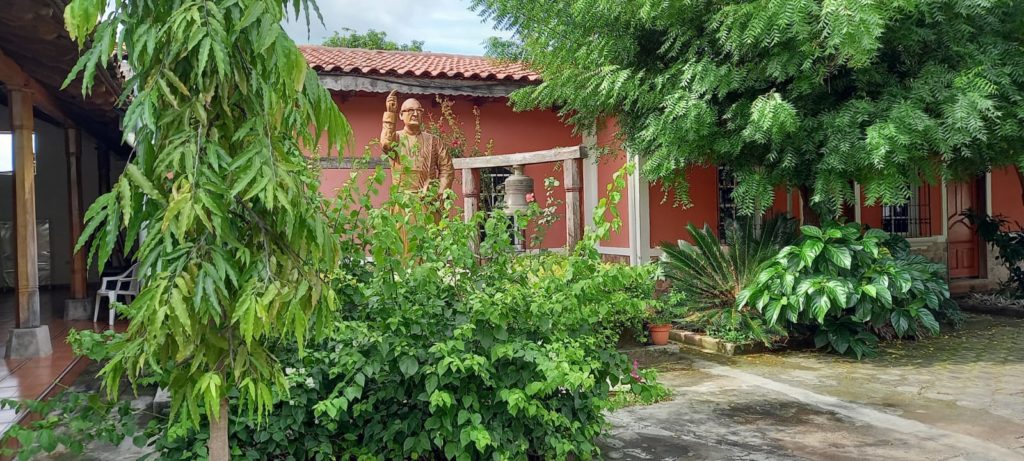 I couldn't help but think how cool and shady the courtyard looks.
And there's St. Oscar Romero to give a blessing! As Archbishop of San Salvador, St. Oscar Romero spoke out against social injustice and violence amid the escalating conflict between the military government and left-wing insurgents that led to the Salvadoran Civil War. In 1980, he was shot by an assassin while celebrating Mass. No one was ever convicted for the crime. Romero was declared a martyr by Pope Francis on 3 February 2015, paving the way for his beatification on 23 May 2015. During Romero's beatification, Pope Francis declared that his ministry was distinguished by his particular attention to the most poor and marginalized. Pope Francis canonized Romero as a saint on 14 October 2018. Latin American church groups often claim Romero as an unofficial patron saint of the Americas and El Salvador.
Our travelers enjoyed a wonderful dinner with some new friends in Jocoro. Looks delicious!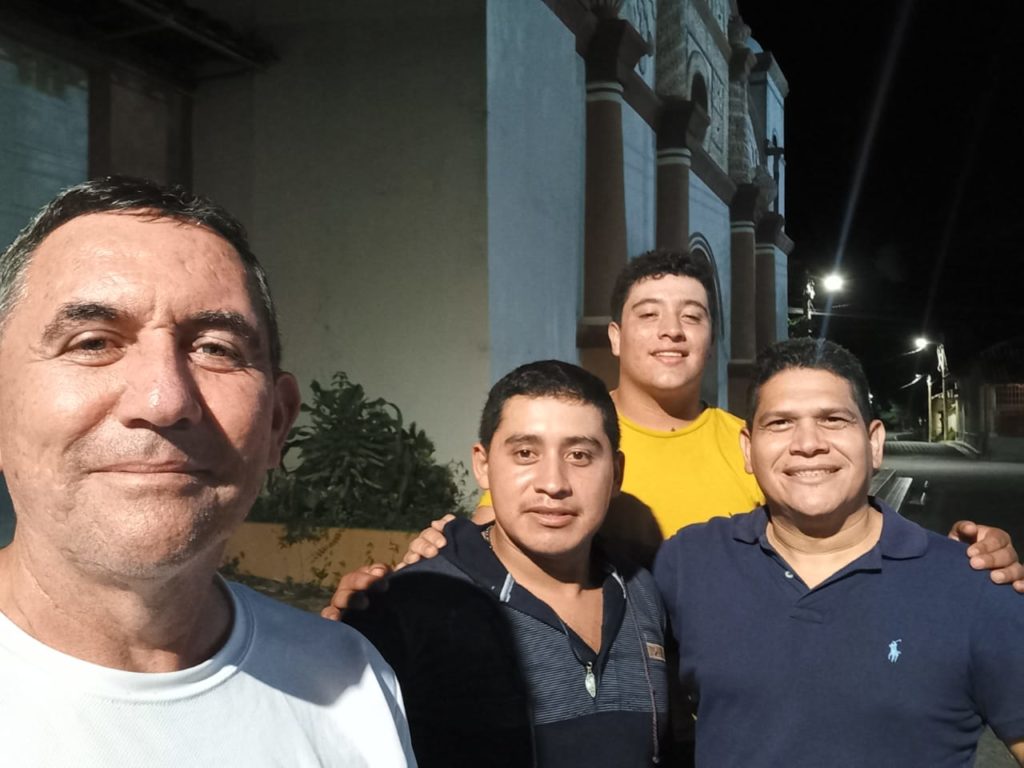 Many thanks to Fr. Franklin for his gracious hospitality.
12 August
On Thursday, the team was scheduled to walk the last leg of the journey in El Salvador, from Jocoro to the border station at El Amatillo.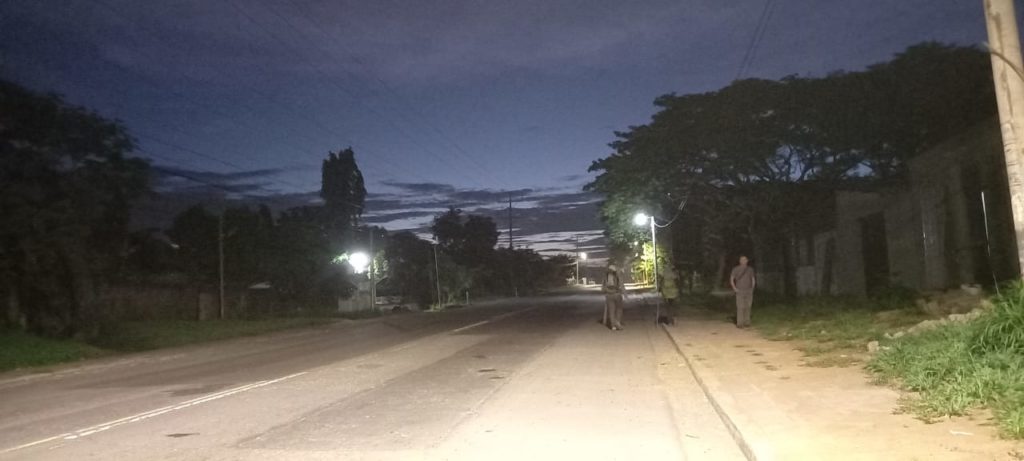 They started out before sunrise. Fr. Miguel quickly realized that there was an error on their itinerary. He texted this picture with the caption, "Hoy nos mintieron. Pusieron 25 kms y fueron 34." ("Today they lied to us. They put 25 kms and it was 34.") Oops! So, instead of walking only 15.5 miles, the team had to cover a little more than 21 miles.
There were a few stops to make along the way. The first was in Santa Rosa de Lima, El Salvador. Santa Rosa de Lima is a city of about 28,000 inhabitants, known for its cheese, gold, and livestock trade. It is named for St. Rose of Lima, the first person born in the Americas to be canonized by the Catholic Church. St. Rose was born in 1586 to a noble family in Lima, Peru. She became known for her cultivation of beauty and her care of the poor. She is the patron saint of embroidery, gardening, and the cultivation of blooming flowers.
The people of Santa Rosa de Lima love "La Virgen del Coyotito".
From Santa Rosa de Lima, the team journeyed to Pasaquina, just a few miles away.
Fr. Miguel was able to speak at the beautiful Iglesias San Sebastián Martir (Church of Saint Sebastian the Martyr).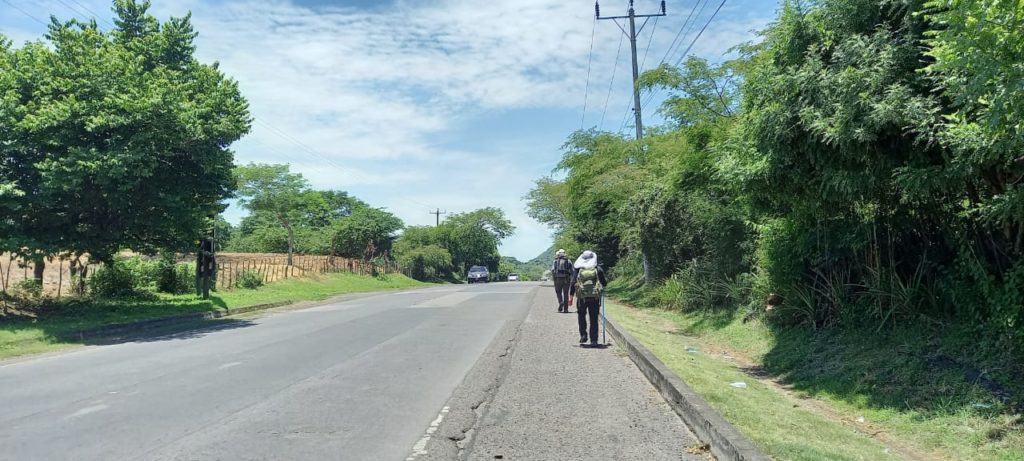 The day was very hot on the road.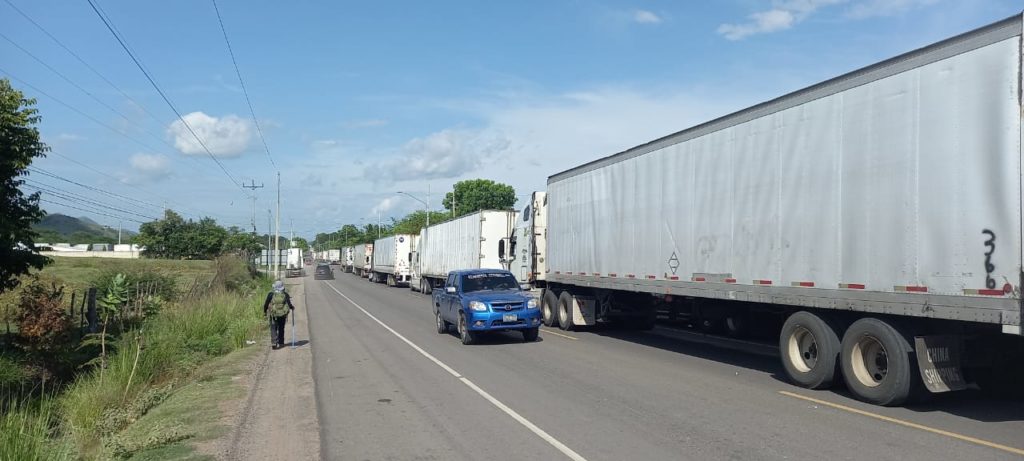 The team knew they were approaching the border when they encountered this line of trucks stretching 2 ½ miles!
Finally! The border with Honduras! Another goal accomplished!
The Rio Goascaron defines the border between El Salvador and Honduras.
Fr. Miguel, Ignacio, and Eduardo were glad to stop for the night and enjoy the warm welcome of Fr. Carlos and Fr. Juan Jose back in Pasaquina.
13 August
The old saying goes, "There is no rest for the weary." The team had a few chores to do on their "rest day". The hospitality of Fr. Carlos and Fr. Juan José extended to laundry facilities.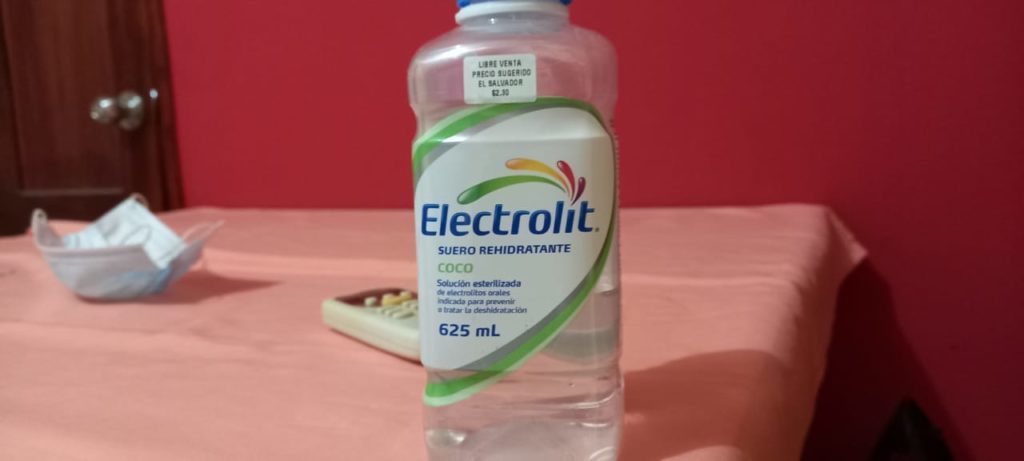 Electrolyte water is a necessity when walking in such hot weather.
In the evening, the team enjoyed some down time with Fr. Carlos on the Gulf of Fonseca, just a few miles south of Pasaquina.
A storm over the Gulf of Fonseca provided quite a show!
Tomorrow the team is scheduled to cross the border into Honduras. It's amazing to think that Fr. Miguel, Ignacio, and Eduardo have already walked almost all the way through the entire country of El Salvador, plus part of Guatemala. They've already walked a total of over 290 miles! I wonder what awaits in Honduras…