So…Sometimes things get lost in translation. Funny story… In my last update, I shared this picture sent by Fr. Miguel:
He had labeled this photo "La virgen del 'coyotito' en Santa Rosa de Lima, El Salvador". I don't speak a lot of Spanish, and I was unfamiliar with the word "coyotito". I tried running it through Google Translate, but got nowhere. I tried looking online for information about the church in Santa Rosa de Lima, but couldn't find anything. I was not sure whether this statue was meant to represent Mary or St. Rose, so I looked up both to see if "La virgen del coyotito" was a title for one of them. If so, the internet couldn't provide any insight. So I just gave up and posted the picture with Fr. Miguel's caption.
It turns out that Fr. Miguel has a rather large family, and they have developed their own sort of "dialect" that they use within the family. Apparently, "coyotito" is a term they use (made up?) to mean "taking a nap". ? Fr. Miguel's sister-in-law, Ceci (my counterpart in Guatemala) explained, after she finished having a good laugh at my blunder, that it takes a while to learn "Alvizurish". I asked Fr. Miguel if he wanted me to correct the post or just share the story. We both thought you might enjoy reading about this little oops. I hope we were right. ?
Anyway… Moving right along…
14 August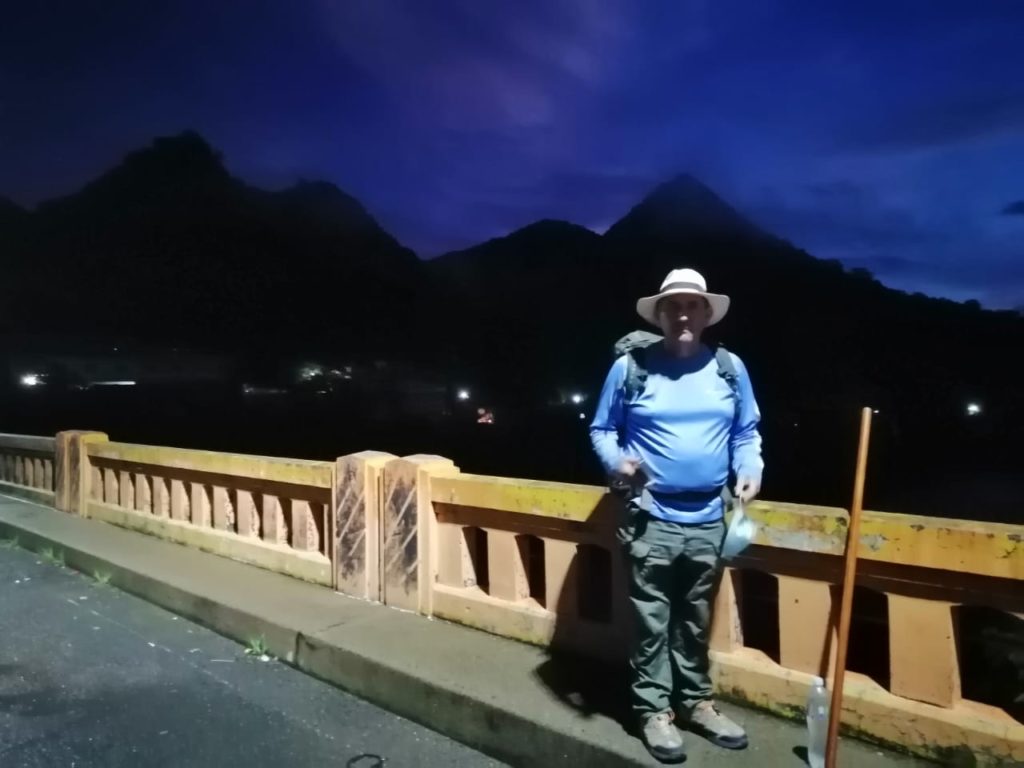 Fr. Miguel, Ignacio, and Eduardo set out before dawn to cross the border at El Amatillo, El Salvador into Honduras.
Early morning at the border. Each sunrise is an individual work of art from the hand of the Master Artist.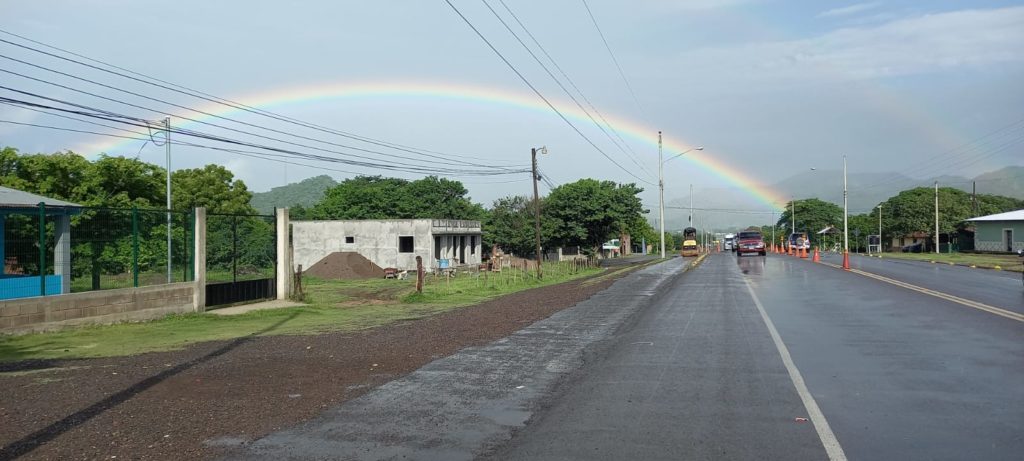 The team was welcomed to Honduras with a little bit of rain…and another spectacular display of divine artistry.
As the day wore on, the heat increased. But that didn't stop these local farmers from unloading their produce near Nacaome, Honduras.
The heat did take a toll on our team, though. Fr. Miguel reported that the day was "a killer". It was so hot that they felt somewhat sick. But they pressed on, and eventually made it to Nacaome.
With a population of about 20,000, Nacaome is a center of manufacturing and commerce on the banks of the Nacaome River. The city was founded in 1535 when two warring peoples, the Cholulas and the Chaparrastiques, decided to settle their differences and built new houses in the middle of their territories. They named the new town Naca-Ome, meaning "union of two races" in the Nahuatl dialect. Perhaps sometimes we could learn from their example…
The park in the center of Nacaome looks like a cool and refreshing place to stop on a hot day.
St. Joseph Church was dedicated on Sunday 17 March 1822, and rebuilt in 1867. Fr. Miguel, Ignacio, and Eduardo were able to attend evening Mass in this historic church. Afterwards, they received a blessing from Fr. Mercedes.
There wasn't really much energy left for any sightseeing. All three of our travelers were just eager to find their beds and sleep. They were graciously received by Suyapa and her children, Kevin and Cristel, and quickly settled in for the night.
15 August
The goal for today was the small town of Pespire, Honduras.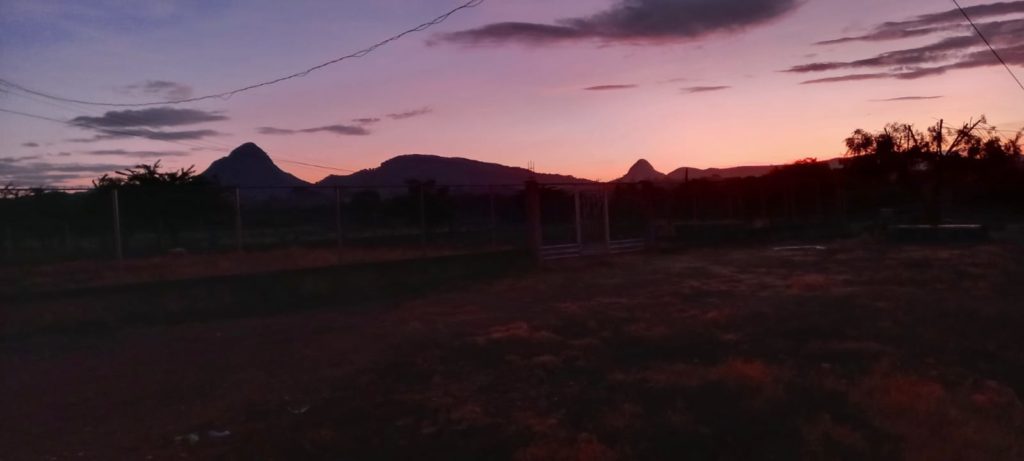 Even the morning heat was oppressive. But another beautiful sunrise encouraged Fr. Miguel and his team to press on.
Pespire is known for its mangos.
They even have a giant mango in the park, and have named this street La Tierra del Mango, which roughly translates as "Mango Land".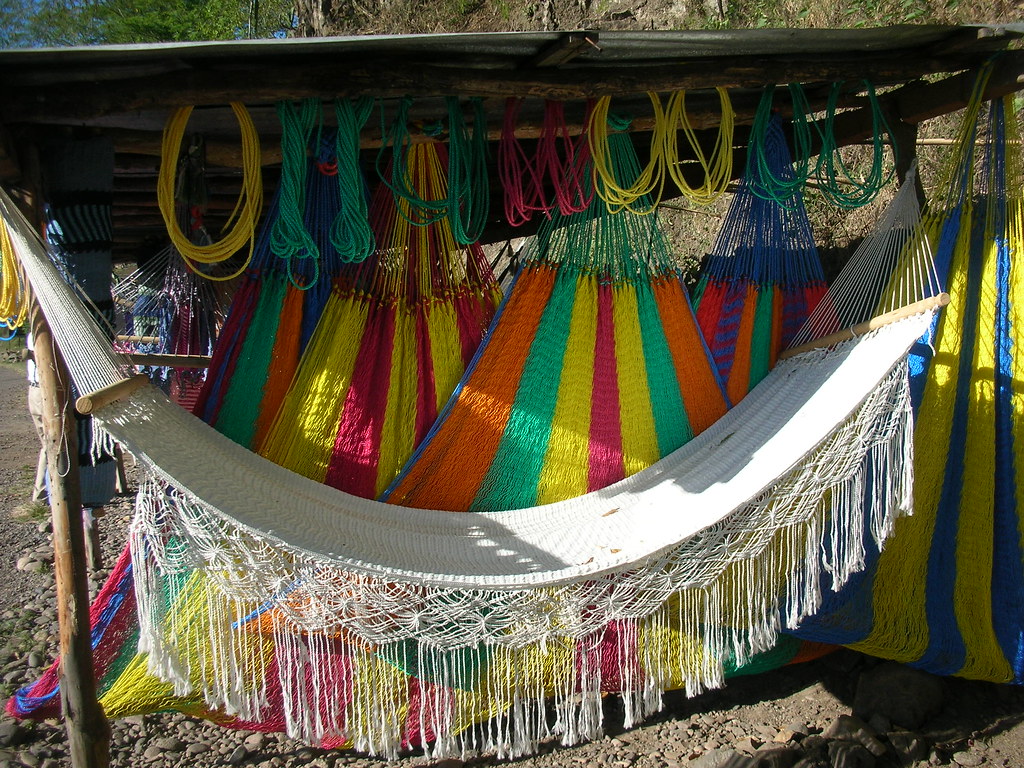 The afternoon heat makes a hammock look more welcoming than ever! Maybe time for a little "coyotito"?
La Iglesia de Pespire is right in the center of town, just off the park. (See the mangos in the corners of the picture?)
Once the team made it to Pespire, they took a bus back to Nacaome to enjoy another night of fellowship with Suyapa, Kevin, and Cristel. The plan is to take the bus back to Pespire in the morning and set out on foot for the next stop on the journey, Sabana Grande, Honduras. Blessedly, the weather forecast looks promising for cooler temperatures.
In celebration of the fact that the team has made it almost halfway to the goal of San Jose, Costa Rica, Ceci de Alvizures has put together a wonderful video for us. Enjoy!