9 August
We last left Fr. Miguel, Ignacio, and Eduardo in Mercedes Umaña, preparing to set out on the road to El Triunfo, El Salvador. El Triunfo translates as "The Triumph" in English. Each day of this journey is a small triumph to celebrate!
Fr. Miguel reports that the weather has been hot and steamy. He calls it "No Mercy Heat"! The whole team has had to be very careful not to become dehydrated as they travel.
Although the weather forecast has frequently included high chances of rain, so far the team has not had to walk in rainy conditions.
And the scenery along the way has been spectacular!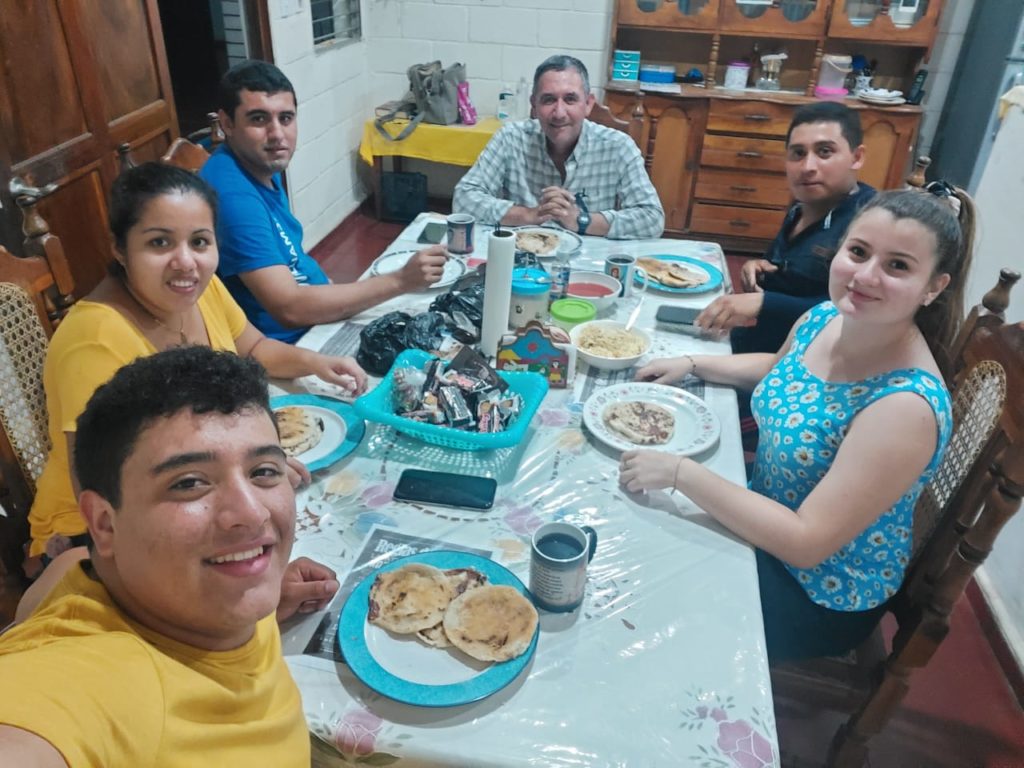 Fr. Miguel, Ignacio, and Eduardo were treated to a delicious homemade dinner of pupusas with their hosts Carmen, Carlos, and their father Francisco from La Parroquia El Divino Rostro (Church of the Divine Face) in El Triunfo.
I've learned that pupusas are one of Fr. Miguel's favorite foods. They are also the national dish of El Salvador, where a special day has been designated each year to celebrate this delicious food. Pupusas are thick griddle cakes made with cornmeal or rice flour. They are usually stuffed with one or more ingredients which may include cheese, squash, or refried beans. Pupusas are typically accompanied by curtido (a spicy cabbage slaw) and tomato salsa and are traditionally eaten by hand. No wonder Fr. Miguel enjoys them! Just look at those happy faces!
10 August
After being refreshed by the gracious hospitality of their host family, the team set out for San Miguel, El Salvador.
San Miguel is the third largest city in El Salvador, with a population of about half a million people. The city was founded in 1530, but was destroyed by volcanic activity in 1655 and was rebuilt. San Miguel has become an important center for the agricultural, textile, and chemical industries in El Salvador. It is also home to some of the oldest schools in the country, including the University of El Salvador.
Given the modern character of the city, I wouldn't have expected to have to watch for this sort of traffic hazard on the roads!
Once in San Miguel, Fr. Miguel and company were able to enjoy a relaxing lunch with Mario Gonzales and his son Daniel.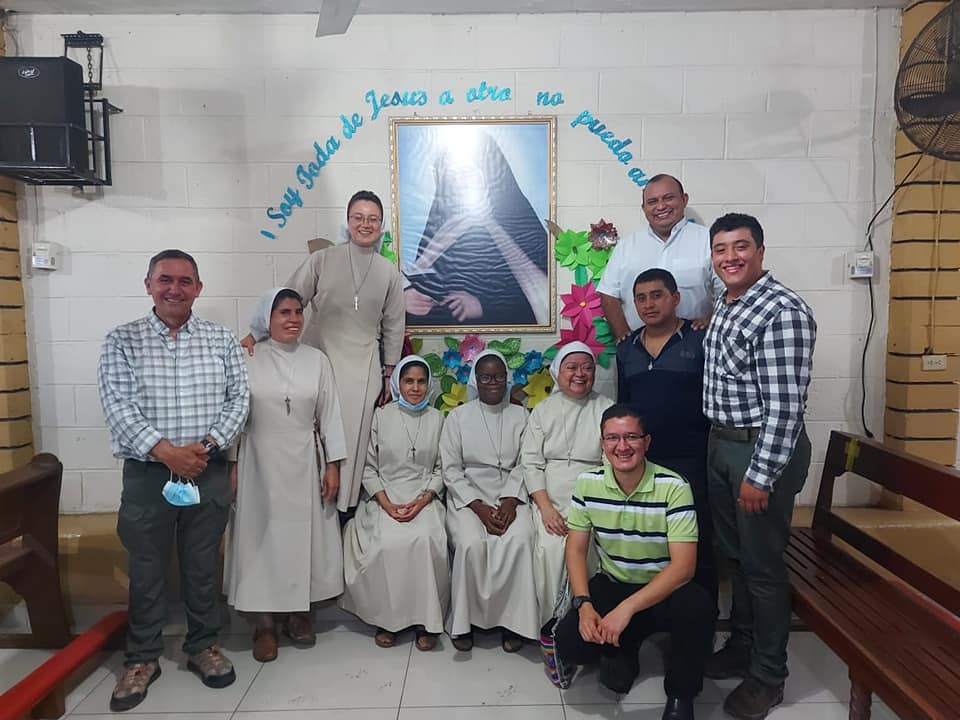 It was a delight for Fr. Miguel and the team to meet the Carmelite Sisters of San José in San Miguel.
The team was also able to visit the Cathedral Basilica of Queen of Peace. This lovely church, located almost in the center of San Miguel, is called by locals simply San Miguel Cathedral or affectionately "our Queen of Peace". The building is relatively new, but a small church named for the Archangel Michael has stood on the spot since 1740. In November 1862, the old church was demolished since it could no longer accommodate everyone who wanted to worship there. The construction of the new church began, but encountered many problems. Local people completed the roof on their own so that services could be conducted in the church. The unfinished church received its first parishioners in February 1913. The work continued as funds were available, and the new church was finally completed in 1962.
The whole team is very grateful to the Gonzales family for their welcome in San Miguel!
Look at the progress they've made so far!