28 August
On Thursday, we left Fr. Miguel catching a bus from El Triunfo, Honduras back to Choluteca to rejoin Eduardo and Ignacio who are still in isolation after testing positive for Covid. Blessedly, both are still symptom free.
Saturday was the day for Fr. Miguel to finish the walk through Honduras.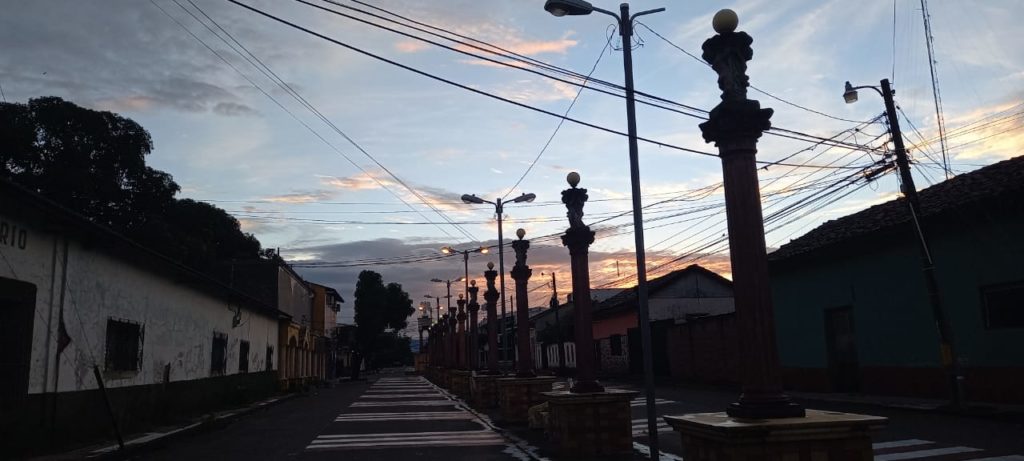 He left bright and early. He did not want to ask Fr. Rito to get up early to drive him to El Triunfo, so he caught a bus back to the entrance of El Triunfo to resume his walk. It was just an "easy" 8 kilometer hike. (That's about 5 miles for those of us who still don't use metric.)
All through Central America, the road is lined with trucks whenever a border crossing is nearby. So Fr. Miguel knew he must be close to his destination when he started to see lots of trucks.
Like the buses in Central America, many trucks are brightly decorated, often with religious images.
After a relatively short walk, Fr. Miguel arrived at the customs (aduanas) station at Guasaule, Honduras. Just through those doors, across a bridge, and a few kilometers down the highway is Somotillo, Nicaragua.
All those trucks have to be processed through customs, which creates the long lines approaching the border crossings.
The Rio Guasaule defines the border between Honduras and Nicaragua.
Many people avoid going through customs by simply crossing the river. This way, they can also avoid having to get a Covid test. (Covid tests cost $170-$175 US in Honduras!)
There doesn't seem to be much to hinder people crossing back and forth between Honduras and Nicaragua. These folks were crossing the river in full view of the highway. Were they smuggling something? No one seemed to be interested in enforcing any laws…
Perhaps they just don't want to deal with the Nicaraguan authorities. Fr. Miguel walked across the bridge to the border with Nicaragua. When he took this picture, the Nicaraguan police shouted at him that he could not take any pictures. He commented, "They are not friendly and welcoming at all."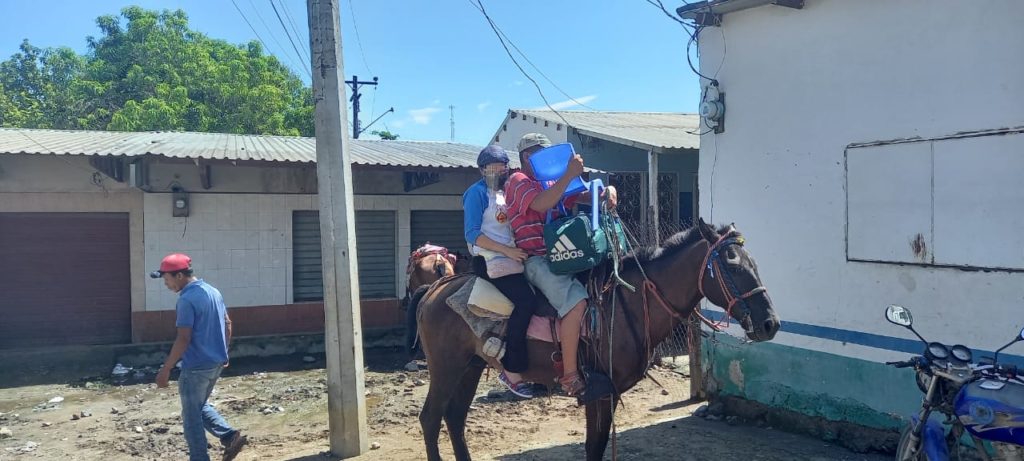 Maybe that's why people use mules to go around customs into Nicaragua.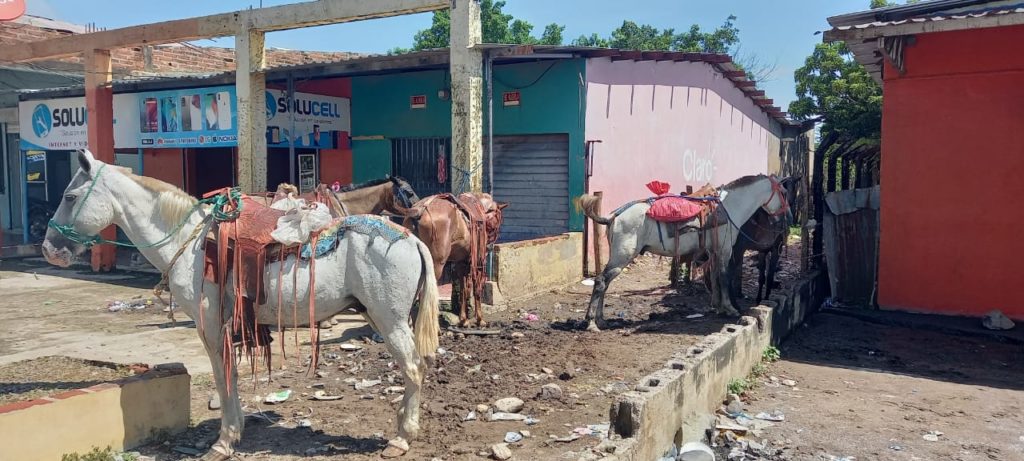 For 50 Lempiras (about $2.10 US) they take you to the other side of the border.